[ad_1]
NEW DELHI: A US-based academic,
Vivek Wadhwa
, has accused the
Aam Aadmi Party
of misleading him for a news article published by him on Delhi's mohalla clinics.
"I am disgusted with the dishonesty of ads by Delhi's chief minister
Arvind Kejriwal
. Misrepresent my Washington Post article about Health Cube360 and make false claims about the Mohalla/Peoples clinics," Wadhwa tweeted as he tagged a video of AAP hailing the success of AAP's mohalla clinics in Delhi.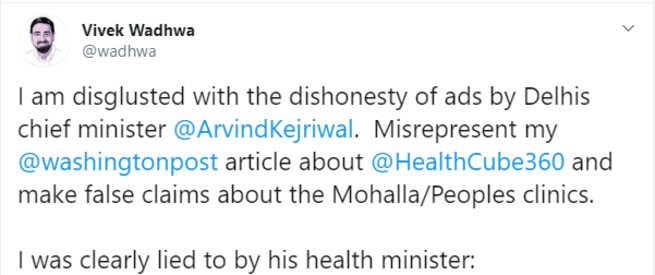 In 2016, Wadhwa had written an article in US-based Washington Post in 2016 praising the overwhelming success of AAP's mohalla clinics in the national capital. On Friday, Wadhwa alleged that he was misled by the Delhi government's health minister Satyendra Jain.
"I was clearly lied to by his health minister," he added in the same tweet. In the tweet, Wadhwa tagged a link of a 2017 news report alleging a scam in mohalla clinic to substantiate his allegations. The report alleged that the clinics are treating two patients per minute. The report also alleged that the clinics' doctors are making false entries of patients, and doctors are duping the patients by prescribing useless medicines.
Wadhwa slammed AAP for using his article for its political gains.
"It is rare that I comment on politics, especially Indian. But this was so much over the top that it made me sick," he added.
[ad_2]