shramik special trains: Shramik specials nearing end of journey, Rs 1,885 crore refunded against lockdown cancellations | India News – Times of India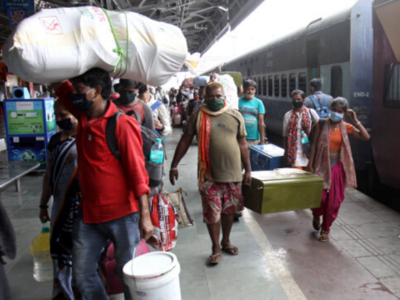 NEW DELHI: Shramik Special trains are nearing the end of their journey as demand from states tapers off to a trickle after taking 58 lakh migrant workers home, completing what can easily be termed as the world's biggest mass evacuation of people.
In a related development, an agency report said Rs 1,885 crore have been refunded against cancellation of tickets booked online between March 21, four days before the countrywide Corona lockdown began, and May 31 when most of the curbs were lifted.
Railway ministry sources told TOI 4,300-plus trains have run till Thursday. From a peak of 255 trains on May 26, the daily departures have now come down to 32. The railways provided 1.7 crore meals and 2 crore bottles of water to passengers travelling on these trains.
Data shows about half of the Shramik specials originating from Gujarat and Maharashtra, the two most industrialised states in the country. UP and Bihar accounted for 75% of the destinations of Shramik specials.
"Only a few states are demanding some Shramik trains, which the railways will provide. But we expect demand to stop shortly as all migrants who wanted to return, reach home. Besides, many people are now opting to buy tickets and travel by the 200 special trains – which are normal trains – to get back home," a ministry official said.