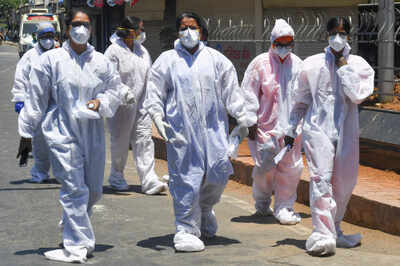 NEW DELHI: The Covid-19 pandemic continued to surge in India, with the number of fresh cases rising to another high of 5,864 on Thursday, the fifth peak recorded in daily cases in the past six days. As many as 148 deaths were reported by state governments during the day, the third highest so far.
With this, the total number of Covid cases recorded in the country rose to 1,16,744, as per reports from states till late on Thursday. The total death toll stood at 3,583, while 48,256 Covid patients had recovered from the infection.
Yet again, Maharashtra reported by far the highest number of fresh cases at 2,345, its second highest addition in a single day, taking its total to 41,642 cases. With this the state has breached the 40,000 mark in total cases, with Mumbai alone crossing 25,000. This is the fifth day in a row that the state has added over 2,000 new cases in a day, while the doubling time taken to reach the 40,000 was 12 days.
Apart from Maharashtra, Tamil Nadu again saw a big spike in cases. The state reported 776 fresh infections, a major jump from the 400-odd cases it had registered in the past two days.
Meanwhile, Delhi and Bihar recorded their highest spike in daily cases, reporting 571 and 313, respectively, on Thursday. As in the past few days, the death toll in the national capital remained high, with 18 fatalities reported on the day.
Along with Bihar, Uttar Pradesh too reported over 300 new cases (341). The two states have received the maximum number of workers returning from other parts of the country, many bringing the infection along with them.
The Bihar government said as many as 999 migrants had tested positive after May 5 in the state, which is more than half of the total number of cases. Most of the migrants who have tested positive for the virus are from Delhi with 296 cases, followed by Maharashtra with 253 cases. Another 180 cases are those with travel history from Gujarat, 66 from Haryana and 58 from West Bengal.