In blow to Lalu ahead of polls, 5 of RJD's 8 MLCs join JD(U) | India News – Times of India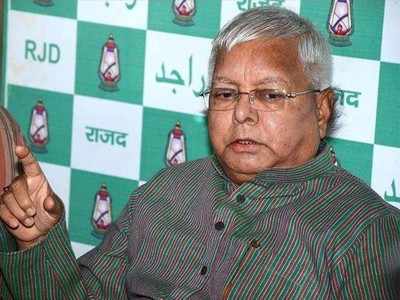 PATNA: Bihar's main opposition party RJD suffered twin jolts on Tuesday with one of its founders, Raghuvansh Prasad Singh, quitting the vice-president's post and five of its total eight MLCs forming a separate group and merging with the ruling JD(U).
"Five RJD MLCs have joined JD(U) and their signatures have been verified. As per the 10th Schedule (anti-defection law) of the Constitution, their membership will remain as it is because all five have left the party together," Bihar Vidhan Parishad acting chairperson Awdhesh Naraian Singh told TOI in the evening.
Vidhan Parishad officials said the five MLCs together account for two-third of RJD's strength in the Upper House, which is the required number to split a party to escape the provisions of the anti-defection law. RJD is now left with just three members in the Upper House, including former CM Rabri Devi, Ram Chandra Purbey and Subodh Kumar.
The development came on a day when former Union minister Raghuvansh Prasad Singh, who is said to be unhappy over plans to induct former LJP MP Rama Singh into RJD, quit the national vice-president's post. It was Rama Singh who had defeated Raghuvansh in the 2014 Lok Sabha elections in Vaishali, a constituency that the RJD veteran had represented for five terms. Rama Singh met leader of opposition in the assembly Tejashwi Yadav on Monday and is likely to join RJD on June 29.
Vidhan Parishad acting secretary Vinod Kumar said the five MLCs submitted a letter to JD(U)'s chief whip Reena Devi informing her of their decision to join her party. The five legislators — Sanjay Prasad, Radha Charan Sah, Dillip Rai, Qamar Alam and Ranvijay Kumar Singh — then met the acting chairperson of the council along with Reena Devi and subsequently paid a visit to chief minister and JD(U) chief Nitish Kumar at his residence.
JD(U) now has 20 MLCs in the 75-member Upper House, followed by BJP which has 17 members. While RJD has three members, Congress two and LJP one, as many as 29 seats are vacant.